Manual Signing and Return Process for Taxpayer
Your tax firm will send you a secure email like the one shown below:
The email will come from noreply@safesendreturns.com or noreply@safesend.com.
We recommend that you add these email addresses to your safe list to avoid them going to your junk or spam folder.
When you click the access link, you will be directed to the landing page for the return. Select the tab "Click Here to Get Started".
You will then be prompted to enter the last 4 digits of your social security number, then select Authenticate to continue.

***Please Note: This step is not required for business/entity returns, only 1040 returns
Next, you will be prompted to request an access code. You must select the 'Request Access Code' button to continue. This will send an access code to your email address.
The access code will expire after 20 minutes. Enter the code, then select "Continue".
Next, you will see the landing page with an overview of your tax information. You will select the "Click Here to Begin" button to continue.
You will be directed to a screen that will show a message from the preparer if there is one.
Select "Continue" in the bottom right-hand corner. This will open a preview of the tax documents.
Select "Continue" to move on to Signing. From here, you can forward the tax documents to other individuals if you need to.
When "Continue" is selected, you will be able to view and download any attachments included with the return.
When "Continue" is selected, you will be prompted to download your e-file forms. You must download the documents before you will be allowed to upload the signed forms.
Once the E-File forms are downloaded, you will be given the option to upload signed forms.
You will manually sign the downloaded documents, then scan and upload the signed documents using the 'Click to Upload' button.
Once the documents are uploaded, select the 'Continue' button to move forward.
You will then be directed to the 'Pay' section, which shows a summary of tax payments due. You can select the due date to view your payment options. You also have the option to download filing instructions and the vouchers on this page.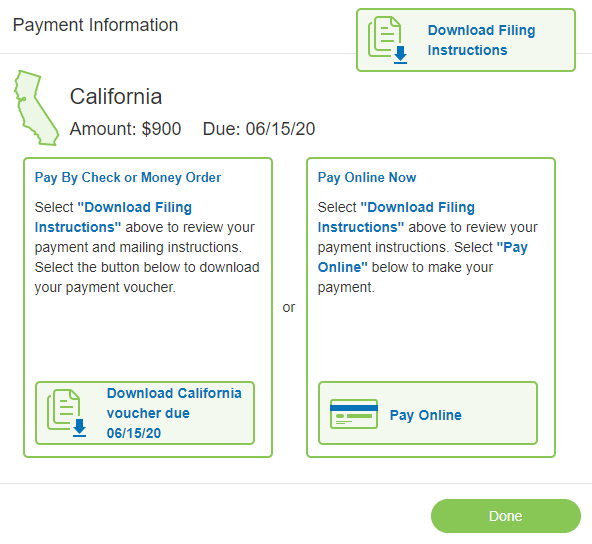 You can access the return again after signing has been completed in order to view this 'Pay' section.