This article is a visual guide to show the taxpayer experience from beginning to end. Click on each step below to expand the steps and walk through the client process for accessing, signing, and paying.
1.) Initial Email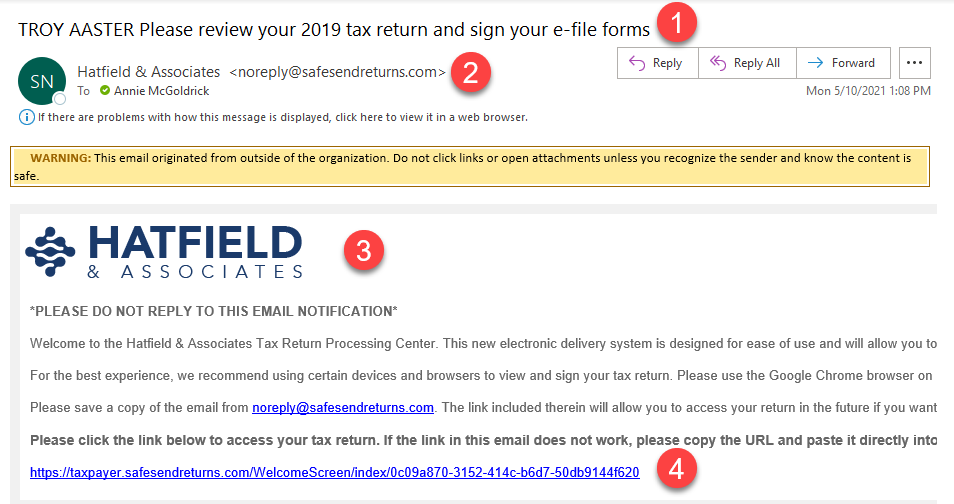 The email subject for the first email will be 'Please review your tax return and sign your e-file forms'.
The initial email will come from either the name of the sender or the name of the firm at 'noreply@safesendreturns.com'.
The logo of the firm will typically display in the email, or else it will default to the SafeSend Returns logo.
The email will contain a link to access your return. Clicking on the link will take you to

Step 2.
2.) Start Page
The firm's name will be displayed in the top left of the screen.
Contact Person: You can click this to reach out to a specified contact at the firm if you have any questions about your return.
The Tax Year of the return and the name of the recipient.
The logo of the preparing Firm, with address if included.
Click on the tab in order to proceed to

Step 3:

Verification
3.) Authentication Screen
If the return is a personal return, you will be given the Social Security Number Authentication screen before proceeding to Access Code verification. If your return is not a personal return, scroll down to the Access code section below.
Enter the last 4 of your Social Security Number into the verification box. Once done, the Continue button will bold and you will be able to continue to the Access Code authentication, below.
After clicking 'Click Here to Get Started', you get one of two pages based on your firm's settings.

Mobile Access Code
Email Access Code

For both methods, in order to receive an access code, you must click on the Request Access Code button. Once selected, a green banner will appear letting you know that your request has been received.
Once you receive it, either in your email or in a text message, enter it in the code field.
Once entered, click Continue to reach

Step 4.
4.) Welcome Page
Your command line. It displays the tax year of this return, the Contact Person if you need to reach out to them, and a settings panel where you can change your mobile number and if it's a joint return, set up your Spouse's email address and mobile number if applicable.
The progress bar displays where you are in the return process.
A display of the total of refunds and payments for your return will be located here.
A quick overview of the steps in SafeSend Returns.

Distribute K-1's will only be available if this is a business or entity return.

Click Here to Begin takes you to

Step 5

: Welcome Message
5.) Welcome Message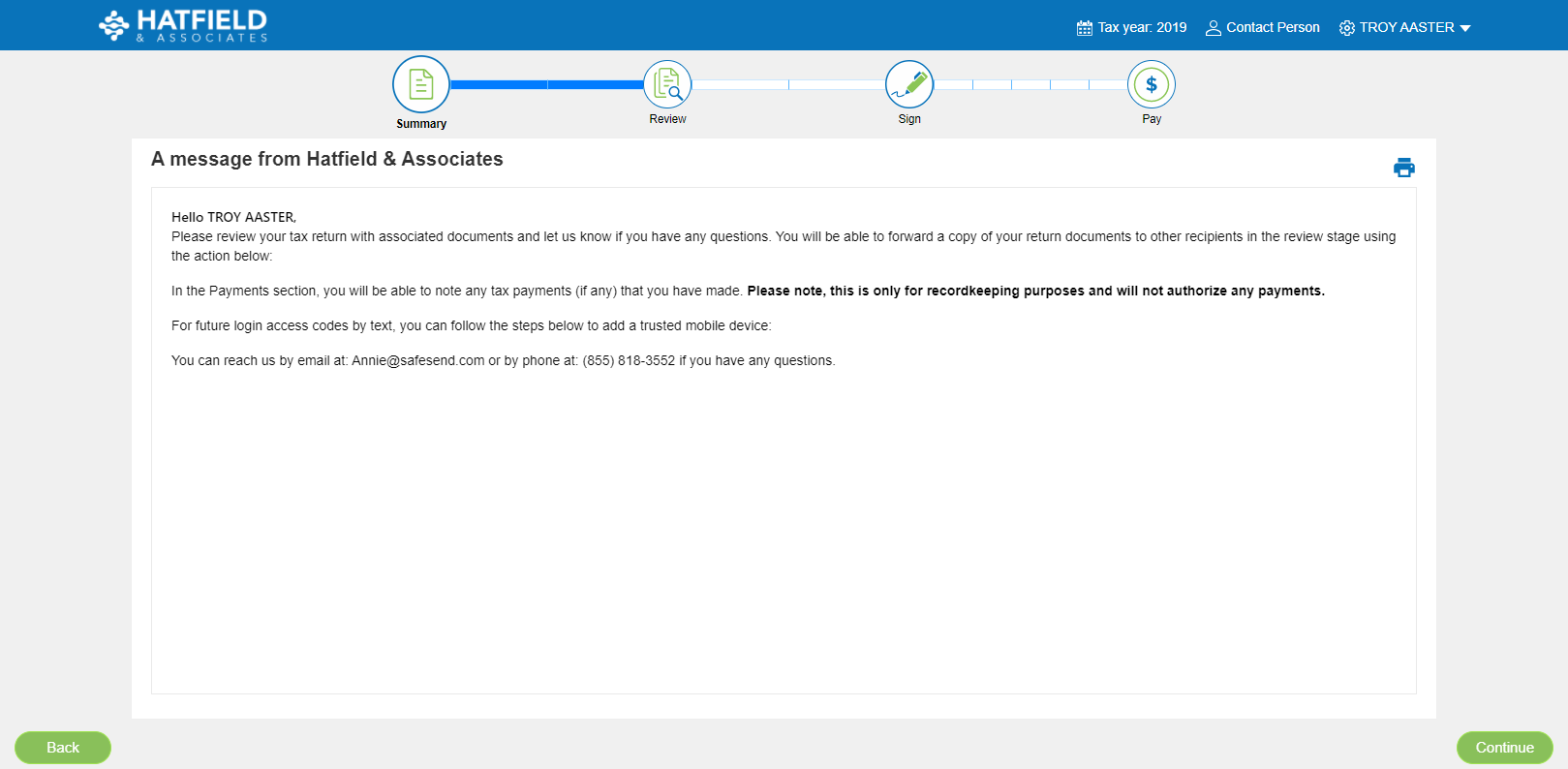 This page displays your firm's instructions to process your return if there are any special requirements. You can click the print button in the upper right to keep a copy of it if you require it.
Click Continue in the bottom right to move to

Step 6

.
6.) Review Tax Documents
Download Tax Document(s) - This will allow the client to download all of their relevant tax documents for review, before continuing to the

Sign

step.
Hide Left Pane - This will hide the list on the left detailing all included document sections.
Navigation - From left to right we have First Page, Previous Page, Next Page, Last Page, and Go To Page where you can manually enter a specific page.
View - From left to right we have Zoom Out, Zoom In, Set Zoom Drop-Down, and Read Mode.

Read Mode will full-screen the view window and you can scroll through all of your return pages.

Return Sections - The main Tax Returns will always display but if there are other sections like Attachments they will display here for viewing.
Hide Right Pane - This will hide the list on the right showing the thumbnails/list of return pages.
Thumbnail/List View - Click these buttons to toggle a thumbnail or list view of the available pages.
Page View - This will show the pages in a smaller thumbnail or list view depending on what is enabled. You can scroll through this to locate a particular page.
Back - This will return you to

Step 5

.
Forward a Copy - You can forward all available documents to an external email address if needed. The recipient cannot sign or deliver K-1 documents at this step, they can only view/download the forwarded documents.
Continue - This will take you to

Step 7

.
7.) Sign Tax Documents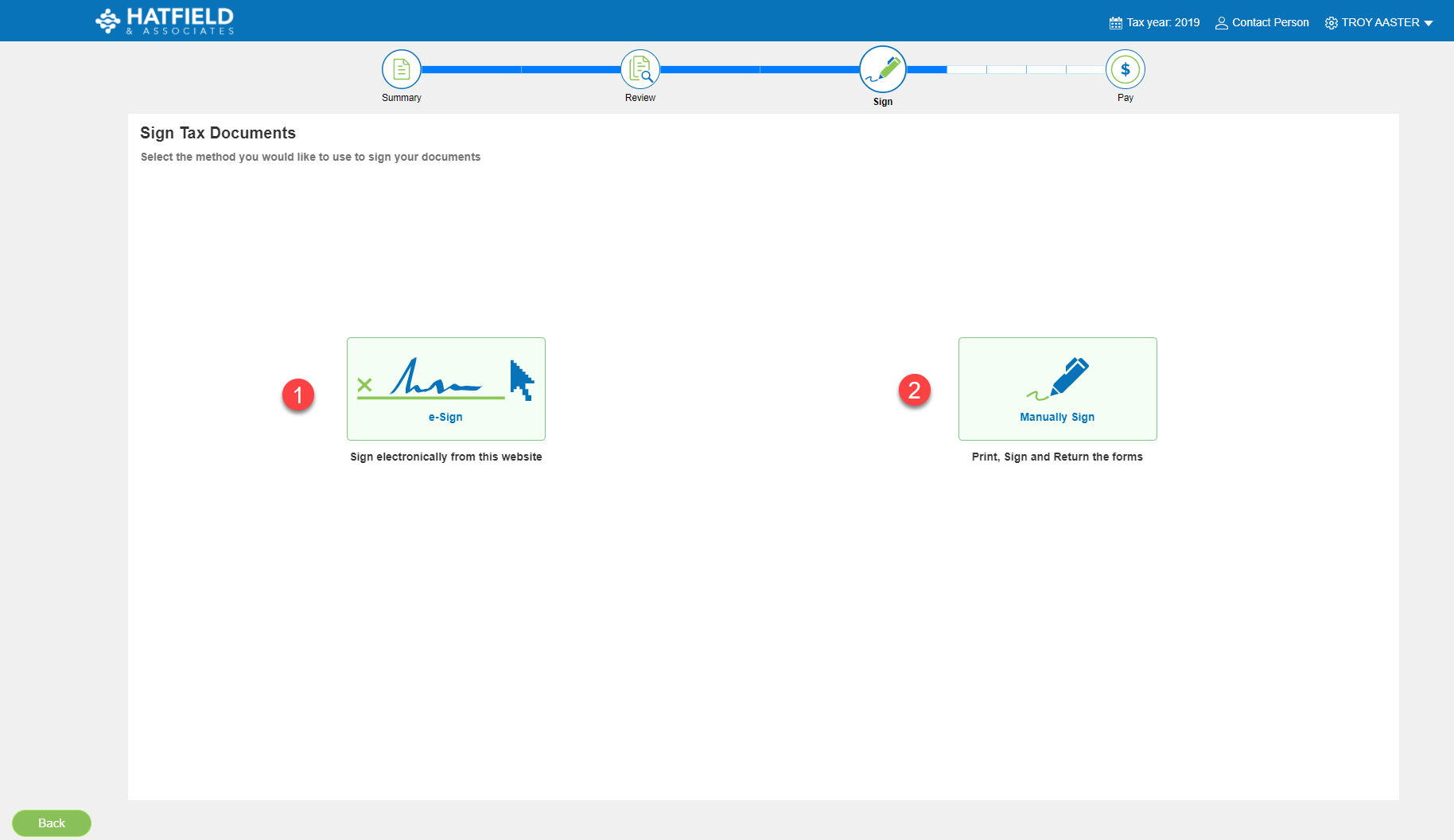 When you reach this step there may be two options:

Sign Electronically (Only if enabled for your return type)
Print, Sign, and Return
Click the applicable sign method that you prefer.

Step 8

for Electronic Signatures,

Step 14

for Print, Sign, and Return.
8.) Sign Tax Documents Electronically

Enter your Date of Birth for verification.
If you want to e-sign, consent to e-sign by checking the box.
If this is a joint return, enter your Spouse's information here.

If the firm has mobile text verification enabled, you will need to enter their phone number as well.

Continue to

Step 9

.
9.) Knowledge-Based Authentication

Security Questions will be displayed here in order to verify your identity.
Each question will have 5 potential answers. Select the correct answer and then click Continue.
You will be asked 3-5 questions and at the end, you will either pass or fail.

If you pass, continue to

Step 10.

If you fail, continue to

Step 14.
10.) E-Sign Your Documents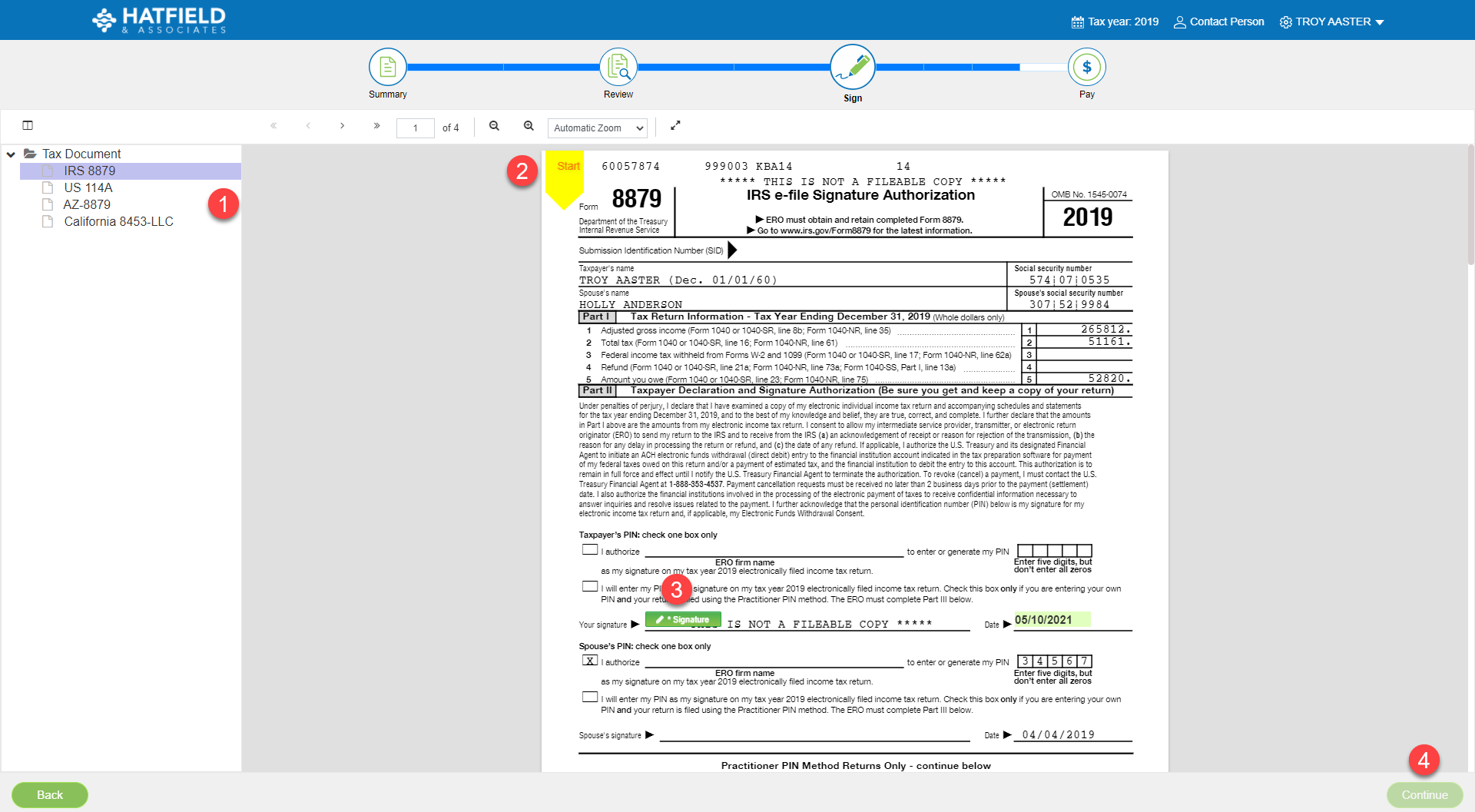 A list of all pages that require your signature. When completed, a green check will appear next to the page.
Click on the Start arrow to be led to your first signature. You can continue to click on this arrow to go down the pages to locate your signature blocks.
Green signature blocks indicate where you need to place your signature. Click on them to open the Signature window, as shown below, to type out or draw your signature to be placed onto the documents.
Once all pages have been signed, the green Continue button will be fully colored indicating that you can continue.

For Business or Entity returns, continue to

Step 11.

For Individual returns, continue to

Step 12.
11.) Distribute K-1's
When you reach the Distribute K-1 step, you have the option of sending the K-1 documents via email or print and mail them.
Distribute Electronically
Download all K-1 documentation.
Check the box for any K-1 documents that you plan on emailing.
Actions are Edit Info and Download. Edit Info will open a window where you can input the recipient's email address, mobile number, etc. Fill this information out for each K-1 recipient.
After selecting the K-1's you wish to email by checking the box next to their entry, click Email Documents to send them out.
Send Later if you need to gather additional information and proceed to

Step 12

.
Distribute by Mail
Download all K-1 documentation.
Select which recipients you would like to download their K-1 documents.
Download individual K-1 documentation.
After checking the boxes, click Download Documents to download the selected K-1 packages.
Continue to

Step 12

.
12.) Pay Screen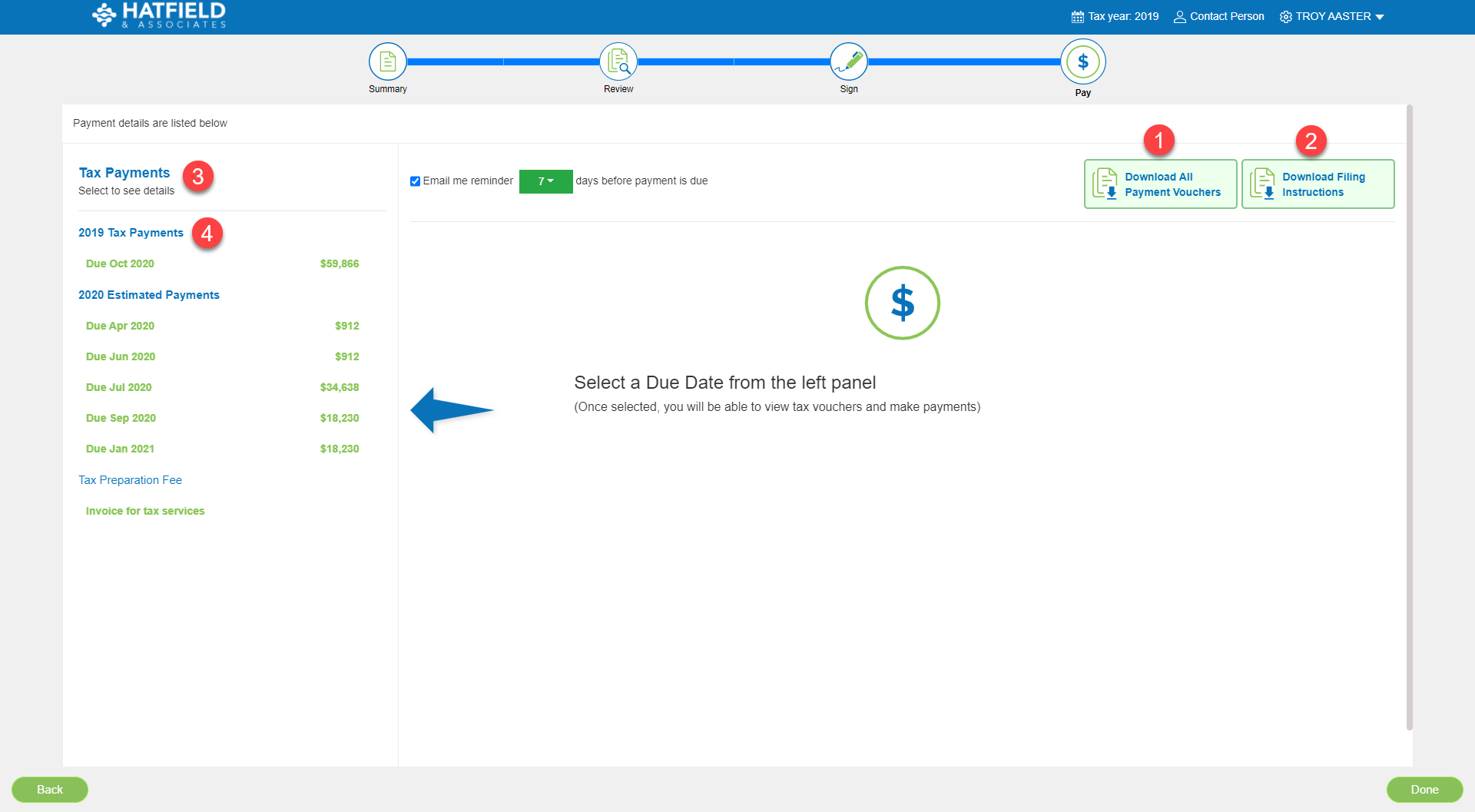 Download All Payment Vouchers - You can quickly download all vouchers for quick access and viewing.
Download Filing Instructions - You can quickly download all filing instructions for reference.
Tax Payments - If your return has any payments due they will be listed here. Clicking on them will open them in the center information panel.
Estimated Payments - If your return has any estimated payments they will be listed here by the month they are due. Clicking on them will open them in the center informational panel.

You can click on 'Pay' underneath the payment to be provided with the option to download the voucher or if electronic payment is an option or required, you can click to be directed to the online portal for the tax authority to make your payment.
13.) End Page / Return Page
Once you are finished with the Pay screen and click 'Done', you will be brought to the final page of the return, which will be the page you see when you re-enter the return at a later date.
On the left will be all of the refund and payment information in a quick overview.
If the return is a joint return, you can send a reminder to the second signer so they receive the return link and finish signing.
You can also revisit the Review step to Download your Tax Documents, you can View or Download your currently signed documents, and you can view the Payments screen if you need to quickly see what is due and where.
14.) Manual Signature Start
When manually signing a return, the only option available is 'Download documents requiring signature'. Clicking this will download all documents needed for signature and open the page to the next part of the process,

Step 15

.
15.) Uploading Documents
The center of the screen opens with an upload function. You can drag and drop or browse for your files in that field in order to send your finished, signed forms to your firm. If you would prefer to mail the forms to your firm, their address will be listed on the right.
When you re-enter the return in order to upload your finished documents, go to

Step 16

.
For now, after downloading the documents you can click Continue to go to the Pay screen,

Step 17

.
16.) Uploaded Documents
When you have finished printing, signing, and scanning your signed documents, you will upload them into our system using the Upload function in

Step 15

.
Each document uploaded will show on a separate line, with an upload date and an option to delete in case the documents uploaded were incorrect.
Once done, you can click Continue to go to the Pay screen on

Step 11

and the firm will be notified that you have uploaded your documents.