Once your account has been created, you can go through the Account Management menu items to continue with your setup.
Please note:
Only System Administrators will have access to the "Account Management" and "Settings" sections.
My Company
The "My Company" section allows you to edit any of the information you initially entered during the Create Your Firm's Account step.

You can add or modify any of your company's information, such as phone number and address in the Company Details section.
If you need to add or modify your primary admin's information, you can do so in the Primary Admin section.
If you make any changes, click "Save Changes" in the upper right before continuing
Branding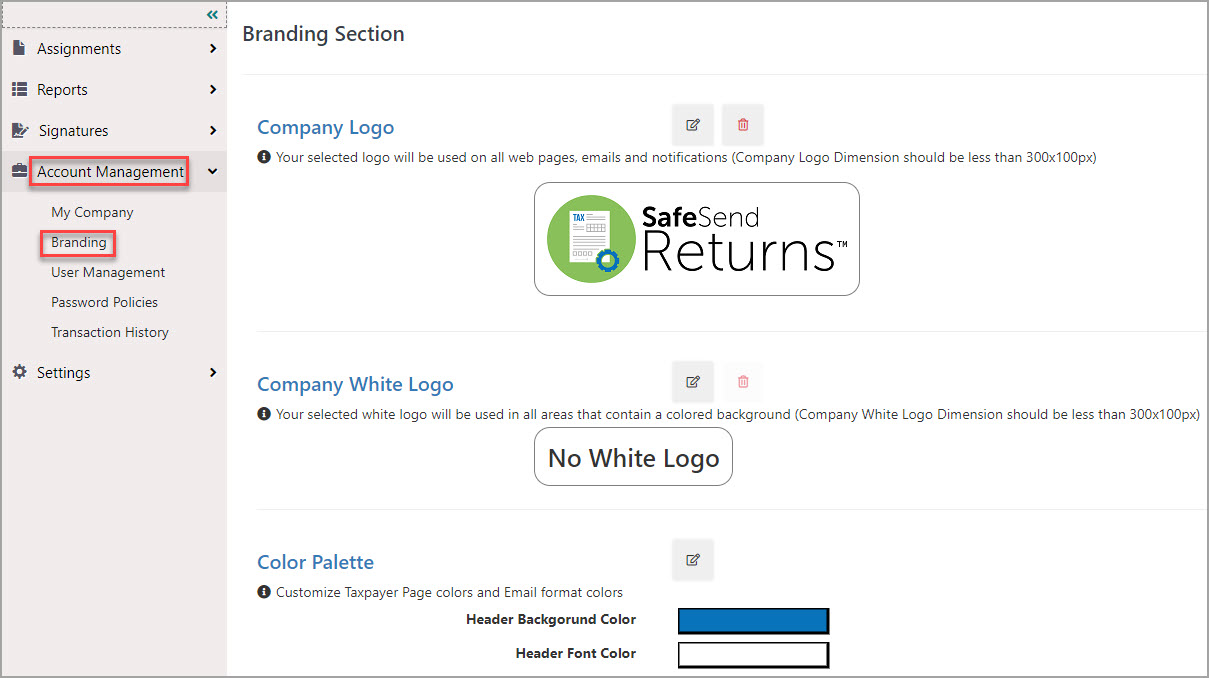 In the Branding section, you can set up the visual appearance of your logo and the color of the SafeSend Returns portal for your clients.
Next to each section, there is an Edit Pencil where you can upload a new logo. The red

delete

trash can will delete the currently uploaded image.

The White Logo is useful if your Header Background is darker. Upload a completely white version of your logo to display in the top part of SafeSend Returns.

Next to Color Palette, you can determine the color of the header and the font color to correspond to your firm's logo.
User Management
Expand "User Management" to add users within your firm who you want to have access to SafeSend Returns.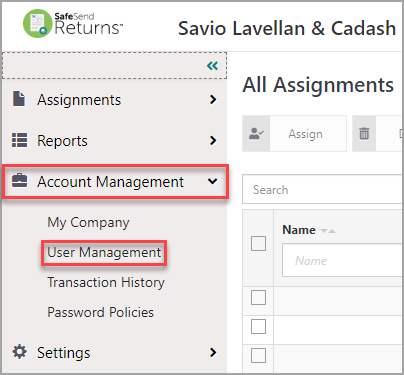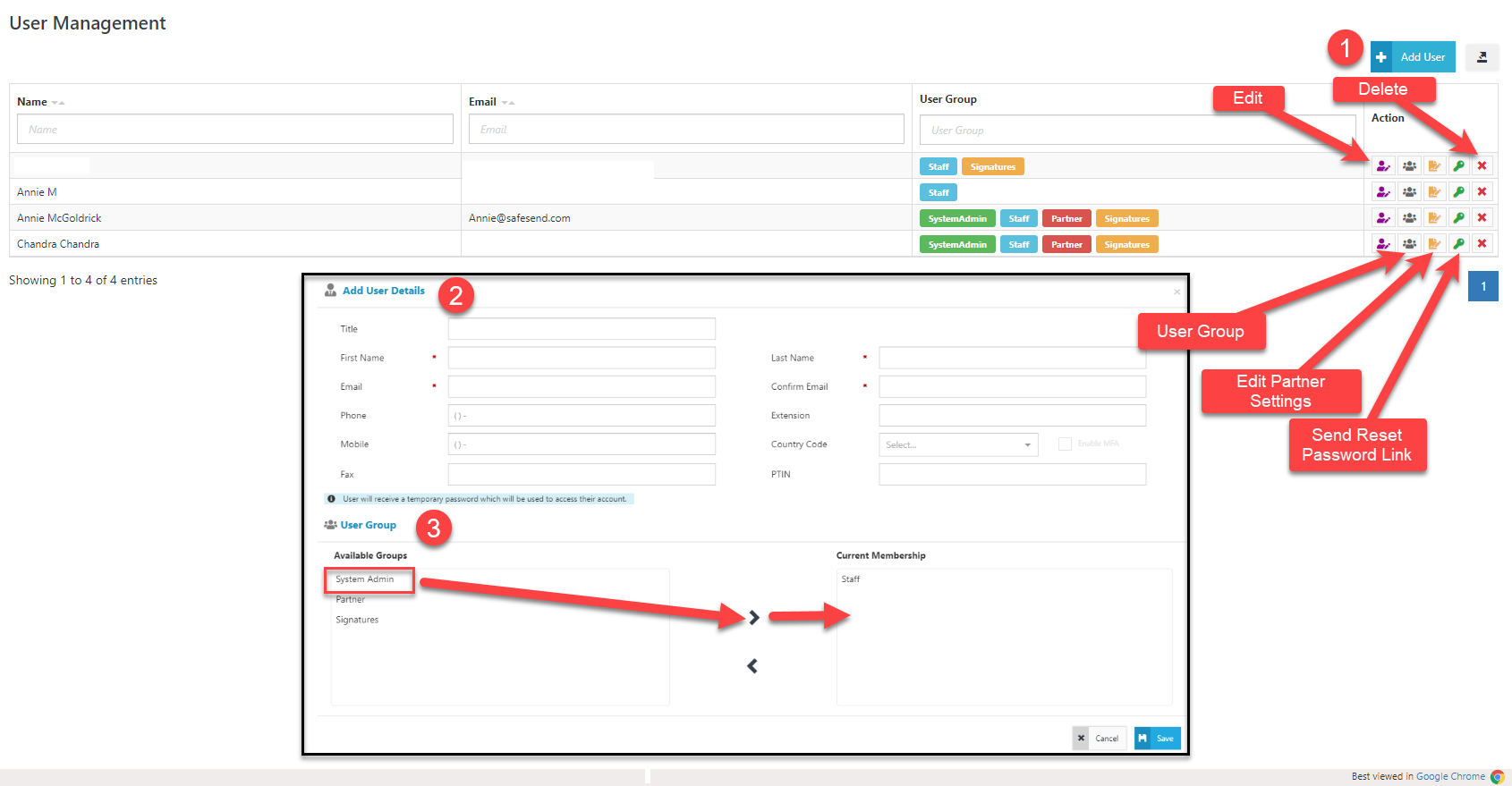 Click the "Add User" button and complete the "Add User Details" section

First Name, Last Name, and Email are required.
PTIN is not currently required, but will eventually allow for SafeSend Returns to read that number from the tax return and automatically assign a partner to the return.
The Phone requires exactly 10 digits, no special characters or blank spaces.

Click the "User Group" section to assign a user to a specific user group.

Staff:

Allowed to upload & submit returns
Can process returns
Can manage e-file authorizations post-delivery
They are able to deliver to the taxpayer but this can be restricted in Settings

Partner:

Allowed to upload & submit returns
Can process returns
Can manage e-file authorizations post-delivery
Appear as a selection in the ERO / Signer column when uploading returns

System Admin:

Allowed to upload & submit returns
Can process returns
Can manage e-file authorizations post-delivery
Only user group to have access to Account Management and Settings

Any user can be a member of any or all Groups (Staff, Partner, System Admin).
Once a group has been selected, it will appear in the "Current Membership" box on the right.
Click Save.
The action menu items on the right perform the following functions:
Edit user details (purple button)
Edit user group (gray button)
Edit Partner/ERO settings; this allows you to upload an ERO signature and set their signature permissions (yellow button)
Reset password; this allows you to send a reset password link to the user (green button)
Delete; this will delete the user (red button)
Important:
You need to have at least one Partner created when adding users.
Once you click Save, you will return to User Management and see all of your users listed.
Should you need to edit any user information or delete any users, you can do so here.
You can export a list of all users by using the Export to Excel button on the right-hand side:
Transaction History
This feature allows you to see your active return count.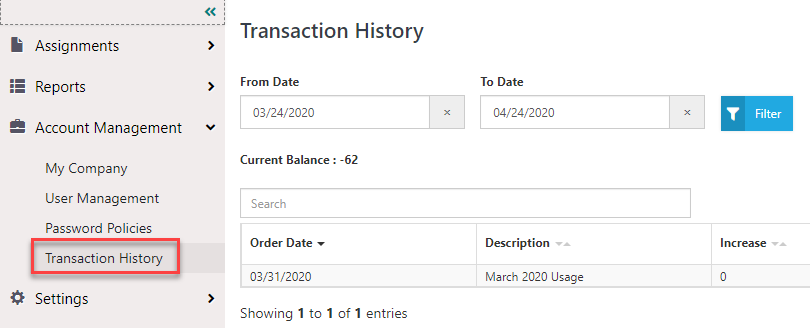 You can Filter by Date

Selecting the following month will display the current month's usage

You can see your Current Balance of returns available

It is important to note that your account will never be turned off for going negative
This balance is a live count
Password Policies
This setting sets requirements for user passwords. Users will have to reset their password with every password policy change.
No Policy - The "No policy" selection will be removed after 6 days, and the password policy will be changed to the "SSR default" policy automatically.
SSR Default - The SSR default policy is as follows:
Firm Defined Policy - The Character Types, Minimum Number of Characters, and Maximum Password Age can be edited to your preference