Enabling Multi-Factor Authentication
Under

Settings

, go to

Security

.
Toggle the Text Based Authentication button to On.
When toggled On you will see a Pop-up for your settings.

You can also access this by clicking the Settings icon to the right.

On the first tab, you will select which internal users you will enable MFA for.

You can check Enable for ALL to quickly turn the setting on for all users.
You can also toggle it on for individual users.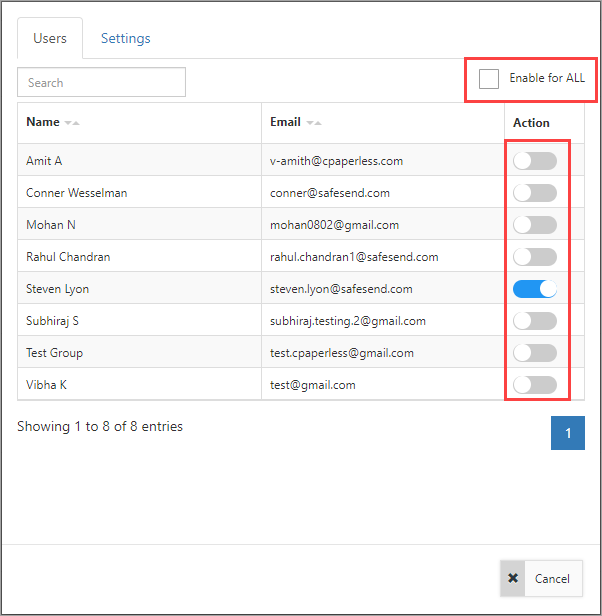 On the Settings Tab we have rules and exceptions to suit your authentication needs.
Trusted IP's

You can add trusted IP addresses.
When a user connects from a trusted IP address they will not have to perform MFA to access their account.

Remember Multi-factor Authentication

When enabled your users can opt to remember their device and not have to get a text message code at every login.
You may also set a number of days that resets this and will force the user to login with MFA again.
Using Multi-Factor Authentication
When enabled, your next login will ask to enter your mobile phone number for verification. Please ensure you enter a device able to receive SMS messages.
Please enter your phone number and click

Verify

.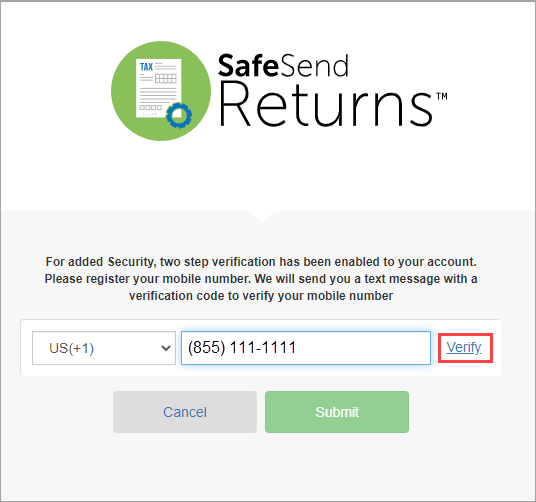 A code will be sent in a text message to your phone.

Enter the code.
If allowed, you may check the option to remember your device.
Click "Submit" to verify code.
You will be logged in to SafeSend Returns.