You can add one custom column to your Delivered Returns Report. In this example, I will be using different Office Locations.
Common Custom Columns
Office Location
E-File Status
Using the Custom Column
Setup
Open "Settings"
"General"
Under "Customize Delivered Report" You can set up your own Custom Column.

The Column Name text box will display the name of the column in Delivered Reports.

In Values, we can enter any information that we want to display in the column.

Type into the text box and then press the green "Add" button when finished.
Using the Custom Column
Got to Reports and "Delivered Returns"
You will see the column that you have created. "Location"
Check the box next to (left of) the return you want to edit.
A button will be presented on the upper command options, labeled "Change Location".
When opened, you will see a drop-down of all your Values to choose from
Select an option
Click "Save"
Once saved, you will see your change made in your custom column.
Deleting the Custom Column
Select the Delete button
You will see a message to confirm and click "Yes"
Your column will now be deleted
Please note, this function will delete all Column Values associated with the Column Name as well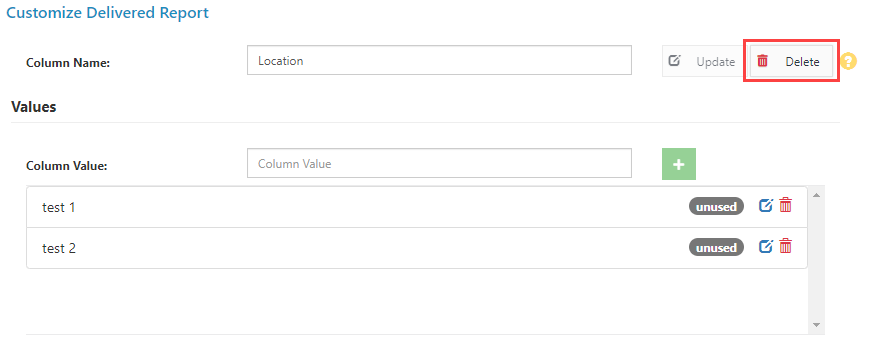 Setting Up a Default Custom Column
You can set up a default Custom Column value in your settings to automatically apply to each return that is assigned to you in Assignments.
Adjusting Custom Column for a Return
You can adjust the value of a return for the Custom Column if the default does not fit. In the Delivery Options tab, scroll down to find the Custom Column drop-down and select the correct value.