This article provides detail for reports, actions, and settings available in Grouped Returns.
Reporting
The Grouped Returns Report provides a view of delivered returns within a group name.
Locating Returns
Navigate to Grouped Returns and click on Grouped Returns Report.
Click on desired Group Name to expand the Grouped Returns list.

Searching within a group is not available. Once the group is located, users will need to scroll through to locate a specific return.

Once the Group Name is expanded, the columns and Action Column Icons match those within SafeSend Returns.

Users can customize what columns are shown and the order.

Actions
Quick Access Actions
Quick Access Action buttons will be grayed out until one or more returns are selected from the Grouped Returns Report.

Set Access

Set Access is the only action that can be applied to all Groups.
In order to use the other Quick Access Actions, the user will need to select all the returns within the Group Name.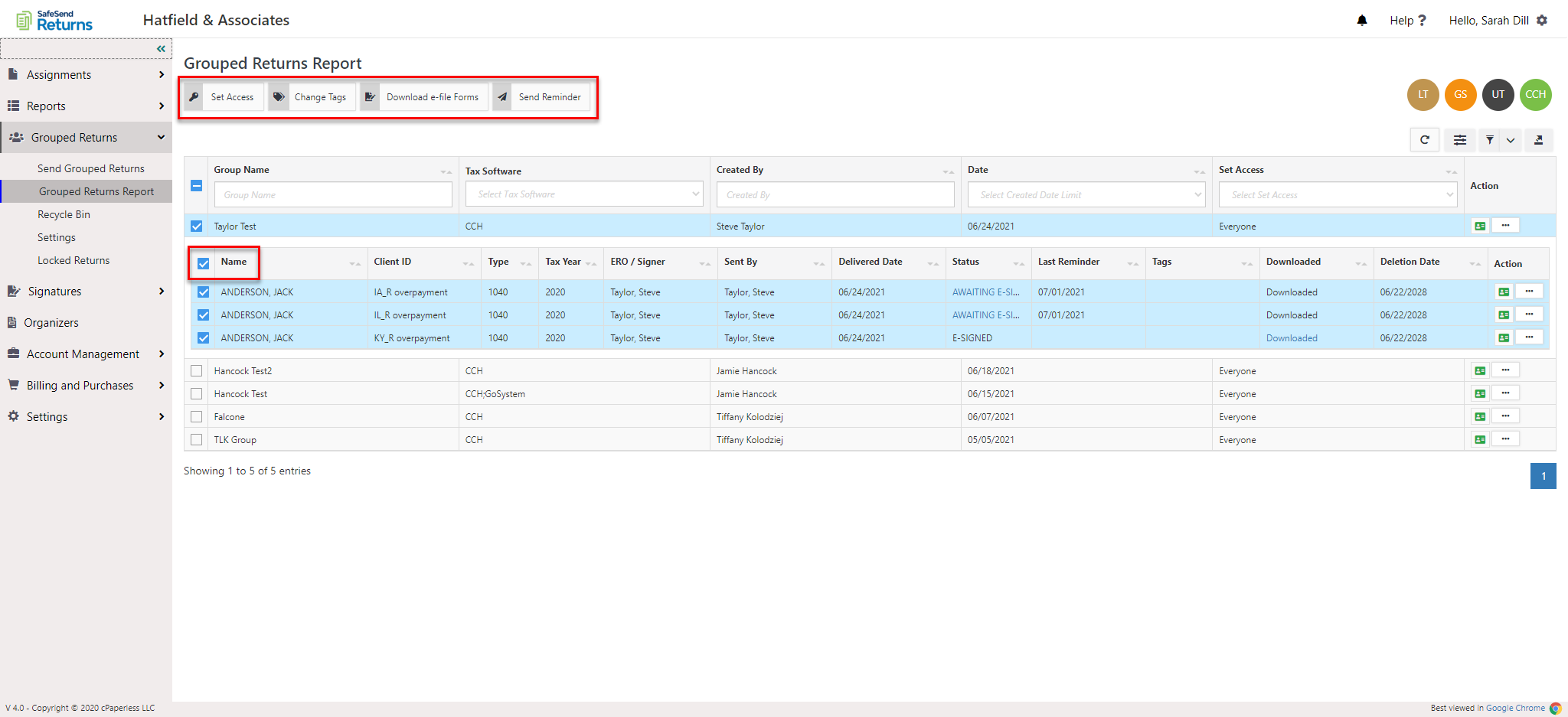 Custom Column (if enabled)
Download E-File Forms
Send Reminder
Action Menu
Action Menu options apply to the specific Group Name.

If the Group Name is expanded, Action Menu will be specific to that return.

The same Action Menu options are the same as SafeSend Returns with two exceptions:

Controller Tracking allows you to view actions taken by the firm and managing member.
Controller View allows you to view the managing member's tax return dashboard.
Recycle Bin
Delivered returns that are deleted will be placed in the Recycle Bin.
The line data is retained for tracking purposes.
Restore the return by using the Restore button.
Delete returns in the Recycle Bin one at a time or in bulk.
Check the box next to the line item.
Select Delete.
Confirmation of Permanent Delete will display.
Click Confirm.
Returns that are deleted from the Recycle Bin cannot be recovered.

Settings
Client Instructions
Client Instructions are email notifications the managing member will receive. Each message type can be customized.

The types of Client Instructions are the same as SafeSend Returns.
Add template
Edit template
Delete template